The industry related to food companies is a consumer sector and is constantly evolving. The food industry does not lose its appeal because it provides standard foods to consumers and can reach the right customers.
When it comes to opening food startups, a strong application idea that can serve current technological developments and market trends can play a vital role in maintaining a balance between supply and demand.
These days, no one likes to use a food delivery service or stand in line to order food. The revenue of the global food delivery sector is expected to reach $151.526 million and is expected to grow at 6.4% annually by 2024. With such rapid development, starting your traditional business should be equipped with the latest knowledge in the field. Application.
If you do not have a food industry app, you may encounter issues such as inventory management, order management, logistics, delivery, uncertain prices, changes in consumer loyalty, etc.
According to a study by Statista, the number of food delivery app users is expected to increase from 36.4 million in 2019 to 45.6 million users in 2020.
So, if you want to harness the power of on-demand catering apps by engaging the customer with a stunning design, read this blog for exclusive food app ideas to promote your business online.
Benefits of launching an application idea to start your food business
Today, people are using mobile apps for everything related to food services. Using such applications is not difficult and does not take much time. In addition, restaurant owners also provide application services to their customers to increase their sales.
Based on facts and figures, it is useful to provide practical ideas for the food industry. thus:
Since 2014, online orders have grown 300% faster than restaurant visitors.
According to a survey, more than 3.5 billion people use smartphones.
According to 95% of restaurant companies, technology has increased the efficiency of their business.
74% of restaurants believe that technological advances have increased customer traffic.
87% of Americans who use third-party food delivery services agree that they make their lives easier.
Now that you know the facts and figures, you can only determine what you need to come up with an app idea for your food business that helps you grow your regular consumers and generate more profits.
We recently developed a food delivery app called "POTAFO" for one of our customers. POTAFO is a comprehensive mobile app for all food lovers in Nepal. Users can locate nearby restaurants and have food delivered to their homes or offices. The POTAFO app has been a huge hit on the Play Store and App Store and has scored more than 1+ million downloads and counts.
This blog will discuss a variety of unique application ideas for food startups. You can use it in your business to better serve your customers and make them happy. So read on!
Best mobile app ideas for food startup
Let's discuss the best mobile app ideas for restaurant and food technology startups that can help you start a great business:
1. Grocery delivery app
According to the Statista report, the average person goes to the supermarket 1.6 times a week and spends about 60 hours a year shopping.
You can create a grocery and delivery app that allows users to search for nearby grocery delivery services. This can be done using technologies such as RTLS (Real Time Locating Systems) and can achieve home delivery.
2. Food delivery app
This type of application is used for food delivery. It's the only way consumers can get delicious food at the door, simply by activating their location in the app.
If you are a restaurant owner and you have a meal ordering app but are unable to provide a delivery service for some reason, you can hire a third party delivery services.
Here is the informative post to help you, if you are thinking of developing a food delivery app like UberEats.
3. Applying food coupons and discounts
This is one of the unique food app ideas that is very likely to grow and find the right audience in no time. This app can easily send you alerts when a restaurant offers big discounts or coupons on free food. Restaurant promotions run throughout the year and food is sometimes sold at half price to attract new consumers.
However, many people do not realize it and miss such delicious offers. And this is where applying for food vouchers or discounts presents a win-win situation for both the food company and its customers.
4. Recipe application
According to the Recipe Apps Market report, the global Recipe Apps market will reach millions of dollars by 2024.
With the help of the amazing step-by-step instructions provided by this recipe apps, even very inexperienced chefs can cook great meals.
5. Diet and Nutrition App for Gym Enthusiasts
Gym Enthusiast Food and Nutrition app includes details of diet and diet charts for weight loss and weight gain. If you are running a food court for gym lovers, this diet and nutrition app idea will help you grow your business and increase sales by connecting with people through online food ordering app.
Consumers find it convenient to use this type of application because they get food according to their diet as well as diet chart. This type of application has a different segment according to the needs of consumers, such as carbohydrates, proteins, etc. Moreover, restaurants can use this application to increase the number of visitors.
6. Restaurant table reservation app
Nobody likes to lose their precious consumers on the weekend, do they? The idea of ​​a Table Booking app is great for a restaurant because it can run smoothly and you can see all the customers properly. This app concept for your restaurant business will describe food ordering services in a more elegant and user friendly way than your competitors.
Help your users book table location, time period, date and order favorite dish, so that your service dominates the game of time and the customer is satisfied with the great restaurant delicacies. The most effective part of creating a restaurant reservation app is that it simplifies many daily tasks, allowing the owner to research other concepts of business details.
7. Food waste reduction app
This is a totally unique app idea for your startup food business. You can start a new business to provide leftover food from your restaurant to the homeless and the urban poor. And when you own a restaurant or food startup, you need to think about food waste. It is clear that food manufacturers are still producing large quantities of food.
As the homeless and poverty population is increasing rapidly in many cities, the idea can start a social movement that benefits the poor.
However, what is the business model behind these kinds of apps and startups? Well, this concept can still find many interested parties in business and industry.
Any application created with this new idea can always increase the operating expenses of large companies. For an initial investment in developing an app like this, crowdfunding can also be a great way.
8. Calorie Tracking App
What you eat has a direct relationship to your health. Therefore, it may be necessary to track calories and food intake.
Nowadays, tracking and counting calories has become very easy. There are many useful mobile apps to help users keep track of everything they eat.
9. Classification and ordering of orders
The food ordering app includes this type of functionality, helping its customers to choose first-class food and helping the owners check which service departments need improvement.
Market food ordering and delivery services use this type of functionality to get customer feedback about the quality of service and foods served by particular restaurants. Maintaining the reputation of their restaurant is good for the owners, and you should always ask customers for reviews and ratings for their services.
10. Application based on AR to exploring restaurants
Augmented reality is one of the trends to follow in order to market your restaurant business and keep customers satisfied and engaged. With this, you can easily impress your customers. No matter how great your food is, and how it satisfies and attracts customers, it is absolutely essential to retain existing consumers.
Many travelers choose places to eat based on the lively atmosphere of the many popular travel destinations and restaurants in the cities. Incorporating augmented reality technology into the app could fulfill this need. Many travelers and guests prefer the environment and interiors over food.
Therefore, app developers can incorporate additional creativity into their catering apps, such as:
Food Waiting Entertainment: This feature allows customers to get busy while they wait for food and enjoy complete entertainment.
Enhanced Menu Cards: This allows you to view menus online. Plus, you can add photos, videos, and other media that instantly create a personalized augmented reality experience.
Quality Service Standards: Provide consumers with a wide range of ingredients and foods ideal to maintain your service quality standards.
11. Electronic menu or digital menu application
Restaurants often use this type of app to replace physical menu cards and provide online menu menus with their images and prices on smart screens. The electronic menu app offers unique features that not only help the restaurant to update their menu at any time but also enhance the dining experience as a whole.
Thus, consumers get the complete menu on their screen as in a food ordering app, food selection and ordering. They can view electronic menu images and food descriptions to better understand the menu. In short, this app makes ordering food quick and easy.
12. Experimental Kitchen App
Many consumers prefer to eat authentic dishes using their culinary skills. So, you can create a demo cooking app for consumers, where they can choose their favorite ingredients and have it prepared by an expert chef.
This approach to the restaurant will make all customers feel special. To stay ahead of the competition with other digital meal delivery apps, your restaurant needs to bring a unique item, like the Experimental Kitchen app.
In addition, it will represent the typical ingredients and recipes used by your restaurant, which will also preserve the authenticity of the food business.
13. Food Ordering App
This type of app ideas is only used for ordering food. Servers can use this app to receive orders from consumers and keep track of their orders for billing. Since restaurant waiters use this app to take orders, it doesn't require a lot of paperwork.
This is useful because roles can be lost; However, when you order your records digitally, the chance of losing details is reduced. In short, this application can only reduce human errors.
14. Call the server application
Your customers can use this type of app to order food instantly. The main condition for using this type of system is that the consumer only needs a QR code scanner. And for notifications, the server can have a smartphone or smartwatch connected to the code scanner.
Consumers enter the restaurant, look at the menu, and then, to order food, they have to scan the QR code with which the waiter is notified of the service, as well as the table number from which they are ordering. It is a practical and easy to use application for restaurants and customers. It is also easy to order food.
15. Baby food suggestion application
This type of application is generally used for children from 4 to 5 months to 1 to 2 years old. Restaurant can launch this app idea to attract more visitors to their restaurant app or website. This app contains complete baby feeding plan, which helps new parents and teach them how to feed their kids well according to their age group.
The app also includes treatments as well as a delicate treatment for the baby. If you are a baby food store owner, this app will help you to increase your profits by reaching more customers online.
Final Note
There are definitely more quirky and modern food app ideas when it comes to starting a food and food service business. And if you know how this beginner app idea can help you start a unique food business, then you can easily check out the ones mentioned above.
If you have a unique app idea and are looking for the best food delivery solution or app development cost, please contact us without delay.
Anupam Singh is a Technical Content Writer at Softkingo who is a curious learner and closely follows the latest developments in technology. She adds value to her writing and helps companies build a healthy online presence through engaging, informative, and shareable blog posts. She loves to master new skills to improve and make her writing more effective and trend-setting.
About Us
We are a Web/Mobile app development/Digital Marketing company with a focus on helping our customers achieve great results across several key areas.
Request a free quote
We offer professional IT services that help Business increase their organic search score drastically in order to compete for the highest rankings even when it comes to highly competitive keywords.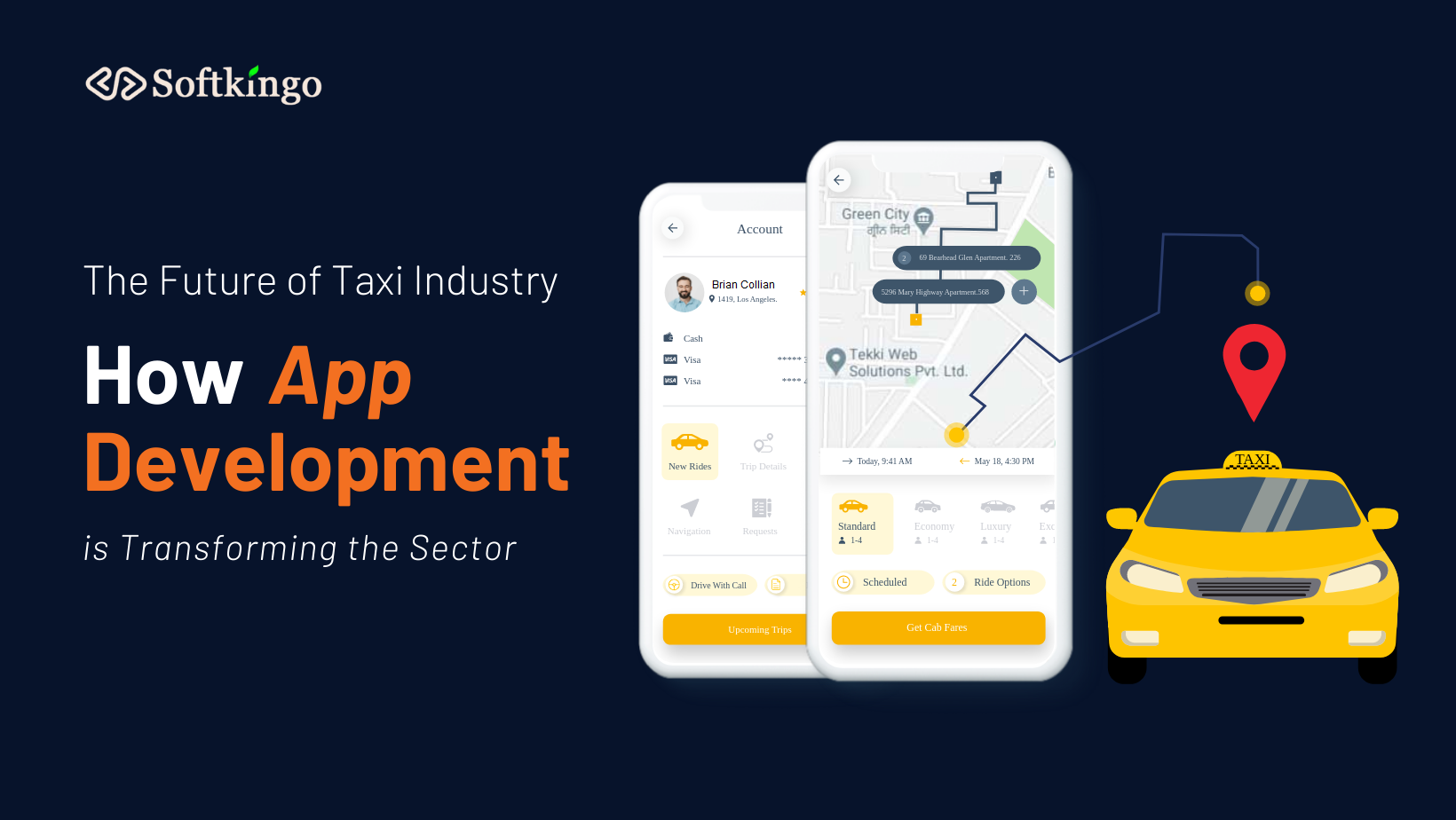 In recent years, the taxi industry has experienced a significant transformation, thanks…
[easy-share counters=1 counter_pos="inside" native="no" hide_total="yes" fullwidth="yes" fullwidth_fix="100"]