An app development non-disclosure agreement is definitely the first thing you need to think about when creating your first app. This will give you a sense of confidence and peace that your idea will be safe while cooking. An application development confidentiality agreement will not only ensure the confidentiality of your idea but also avoid potential conflicts. Let's understand more about this.
Introduction
It's a general story and it's like this: You have a new idea for an app. An idea that you think could become the next big thing. But the problem is that you are too afraid to share your app idea with anyone.
To create a mobile app, you will need a team of expert developers who can understand and develop your app idea step by step. This is where you should deal with some mobile app development company.
But when hiring a mobile app development company, it can be very difficult for anyone to worry about the security of the mobile app idea and other important information.
For everyone, information security related to mobile application development services has become a major concern. Therefore, it is best to enter into a confidentiality agreement to keep all details of your application idea confidential. Through this blog, we will tell you everything you need to know about the Non-Disclosure Agreement. Let's go.
What does NDA mean?
NDA stands for "Non-Disclosure Agreement". This is a contractual agreement that states that both parties involved will act to protect the confidentiality of information and that, whatever the complexities, the data will not be disclosed to third parties.
According to some mobile app developers, the non-disclosure agreement seems silly in some cases because sometimes the idea of ​​the app is fully developed in the imagination of the customers. They don't have a business plan, planning, investors, or anything to do with the mobile app. Thinking is limited to 2-3 sentences.
However, a non-disclosure agreement was signed to protect the idea of ​​mobile application development. However, that doesn't stop others from stealing the idea. The Non-Disclosure Agreement prohibits only the parties named in the document from disclosing confidential information to others.
This means that if either party contacts a mobile app development company or hires mobile app developers with the same app idea, the custom app development company can build a mobile app for it. Another client, still with the NDA. Do not use any confidential information from the document.
There is no such rule for mobile app development companies that cannot accept two similar views from different parties. However, the best mobile app development company always makes sure to provide reliable services to its clients to build a good reputation and maintain lasting relationships.
Why do you need to protect your app idea?
Usually, there is a demand for an organization to form a non-disclosure agreement with their custom mobile application development company because they need to share confidential information about their business which could affect their business.
Additionally, if the idea for an app is related to a core business process, such as manufacturing, research, or finance, they should be wary about careful handling of their sensitive data.
Now, if an organization wants to introduce a new concept of creating a mobile app with unparalleled functionality, they have to ensure complete privacy of the app idea before launch.
So, to protect their important information or to prevent your app idea from being stolen, they ask their mobile app development company to sign a non-disclosure agreement.
Now the main concern is signing the agreement before understanding the concept. If you want to award your project and you haven't discussed the details of your project with your outsourcing partner, they may not be able to come to an agreement without knowing your report. Additionally, if you plan to have your app sponsored by other people in the future, you should also provide them with information about the app idea to attract sponsors.
This means that you can set up non-disclosure agreements only after an initial discussion of the app idea with the app development company and other interested people. In fact, it is also important to involve all employees associated with the application, sponsors (if applicable), and the designated development team to ensure confidentiality of the agreement.
How do you protect your app idea?
As mentioned above, to protect forms of intellectual property such as mobile app ideas, disclosure policy and its primary element – a non-disclosure agreement is used.
Basically, a non-disclosure agreement for mobile application development is a legal document that restricts the release of information about a project or products developed by the category of people who sign the document.
By signing a non-disclosure agreement, the signatories agree not to disclose any development-related information to anyone other than those who signed the document.
If you use the NDA mobile app correctly, this is one of the most effective ways to protect your intellectual property rights. However, the desire to protect privacy can play a negative role in the progress of the business.
Remember, even the cheapest mobile app development company has reached a point where you want to be introduced to something more important than security. She heard you. This means that they are less likely to steal your app idea because they have spent years building their reputation.
How does a non-disclosure agreement protect your mobile app idea?
Intellectual property is one of the most important assets in business today. Companies take all necessary measures to protect their intellectual property rights and to use these assets effectively.
One way to protect these assets is to enter into a "non-disclosure agreement". As you know, this document allows the company to share its intellectual property with those whose contribution is deemed necessary, without putting it at risk. If a company has an idea of ​​a product that needs protection, a non-disclosure agreement ensures that the receiving party does not disclose that idea or information to a competitor or outsider.
After reviewing many client relationships, especially the best ones, almost none of them asked us to create a confidentiality agreement. But, even if they don't ask for it, we still include a confidentiality agreement before the project starts. Our agreements protect the intellectual property and confidential information of our clients.
In fact, to make the mobile application development process easier and simplify, we strive to provide the forms and legal documents so that there is no problem afterwards. In addition, you may also use your own non-disclosure agreement when trading with us. However, our legal department will need to look into this first.
NDA model for application development
If you do not have a copy of the Non-Disclosure Agreement, we have prepared a copy for you – download here
When do you sign the confidentiality agreement?
Signing a confidentiality agreement becomes less important when there is a mutual understanding between the two parties regarding mobile application development, or if you are working with an existing company. Here you just need to make sure that there are no unreasonable provisions in all the terms.
Non-disclosure agreement when entering into a commercial agreement
When signing a business deal such as hiring independent app developers or a mobile app development agency, if you want to make sure that the app idea you share with the service of these vendors is not public, a non-disclosure agreement is a good idea to share. .
For example, if you are going to work with an iPhone app development company and they need to visualize their app idea and don't want them to discuss it with their competitors, then entering a non-disclosure agreement is very helpful. it will happen.
Sign a confidentiality agreement while chatting with investors
Before, a lot of people were doing that. However, this is not necessary and is now outdated.
Most investors may refuse to sign a confidentiality agreement for initial discussion. Only if you need to know inside information, such as revenue numbers or a particular technology, should you ask to sign your first nondisclosure agreement.
Important Non-Disclosure Agreement Articles
Non-Disclosure Agreement Deadline: This is the period during which the Non-Disclosure Agreement is withheld. Simply put, this is the period during which the recipient of information is expected to keep that information confidential. This period includes the day the non-disclosure agreement enters into force until it is terminated due to termination of the contract. However, it is not a good idea to have a non-disclosure agreement that prevents you from obtaining unlimited information. There should be a reasonable range of penalties in the non-disclosure agreement.
What confidential information must be protected under a non-disclosure agreement: This part of the non-disclosure agreement defines what information must remain confidential or confidential. Usually, this confidential information is detailed in the calendar and attached to the information sent via email.
Duties and obligations of the parties to the non-disclosure agreement: The responsibilities and obligations of the parties must be clearly defined in the non-disclosure agreement contract. For example, an application development company may need to use a certain type of communication mechanism or use a certain technology to create a mobile application.
Consequences of a breach of a non-disclosure agreement: What will be the consequences of a breach of confidentiality by the receiving party? This is an essential part of a non-disclosure agreement and must be specified in the contract. In general, severe financial penalties are an additional consequence of most confidentiality agreements. However, it is usually sufficient to obtain compensation for all damages caused by the violation.
The Right to Seek Injunction in a Non-Disclosure Agreement: Almost all contracts state that monetary compensation alone cannot compensate for damages for breach and that the contract itself is acceptable to the parties. This should be done so that the suspected offending party can go to court and obtain an easy stay.
Returning NDA Information: Generally, at the end of the agreement, the receiving party must return or destroy confidential information.
There should be a clause in your non-disclosure agreement describing how and when this should happen. Now, with the advent of storing emails, mailboxes, etc., sometimes it is impossible to completely destroy all shared information. However, the inclusion of such a clause in a non-disclosure agreement may inform the receiving party that all information received must be returned or destroyed. And if the information is difficult to destroy, the clause may include legal terms that prevent the receiving party from sharing the information with the public in the future.
What should be included in a non-disclosure agreement?
The main elements of confidentiality agreements are:
Define the party
Definition of confidentiality
Scope of the recipient's confidentiality obligation
Exclude confidential treatment
Agreement Duration
What does NDA mean?
NDA stands for Non-Disclosure Agreement, a legally binding contract used to establish a confidential relationship. Registration means that you cannot share accessible confidential information with anyone other than the interested parties.
Has the non-disclosure agreement expired?
Yes, most non-disclosure agreements have an expiration date. Usually, the parties decide to terminate the agreement, after which they can renew or terminate the agreement.
Conclusion
With an app development confidentiality agreement, you can be sure that your app idea will remain the same during the development phase. This way you can avoid any potential conflicts that may arise.
In case you still have question or confusion regarding best mobile app development companies, cost of hiring a mobile app developer, how to make money from app idea, how to develop apps or app developers from android India. Average cost You can contact us through the Contact Us form. One of our sales representatives will contact you as soon as possible. The consultation is completely free
Anupam Singh is a Technical Content Writer at Softkingo who is a curious learner and closely follows the latest developments in technology. She adds value to her writing and helps companies build a healthy online presence through engaging, informative, and shareable blog posts. She loves to master new skills to improve and make her writing more effective and trend-setting.
About Us
We are a Web/Mobile app development/Digital Marketing company with a focus on helping our customers achieve great results across several key areas.
Request a free quote
We offer professional IT services that help Business increase their organic search score drastically in order to compete for the highest rankings even when it comes to highly competitive keywords.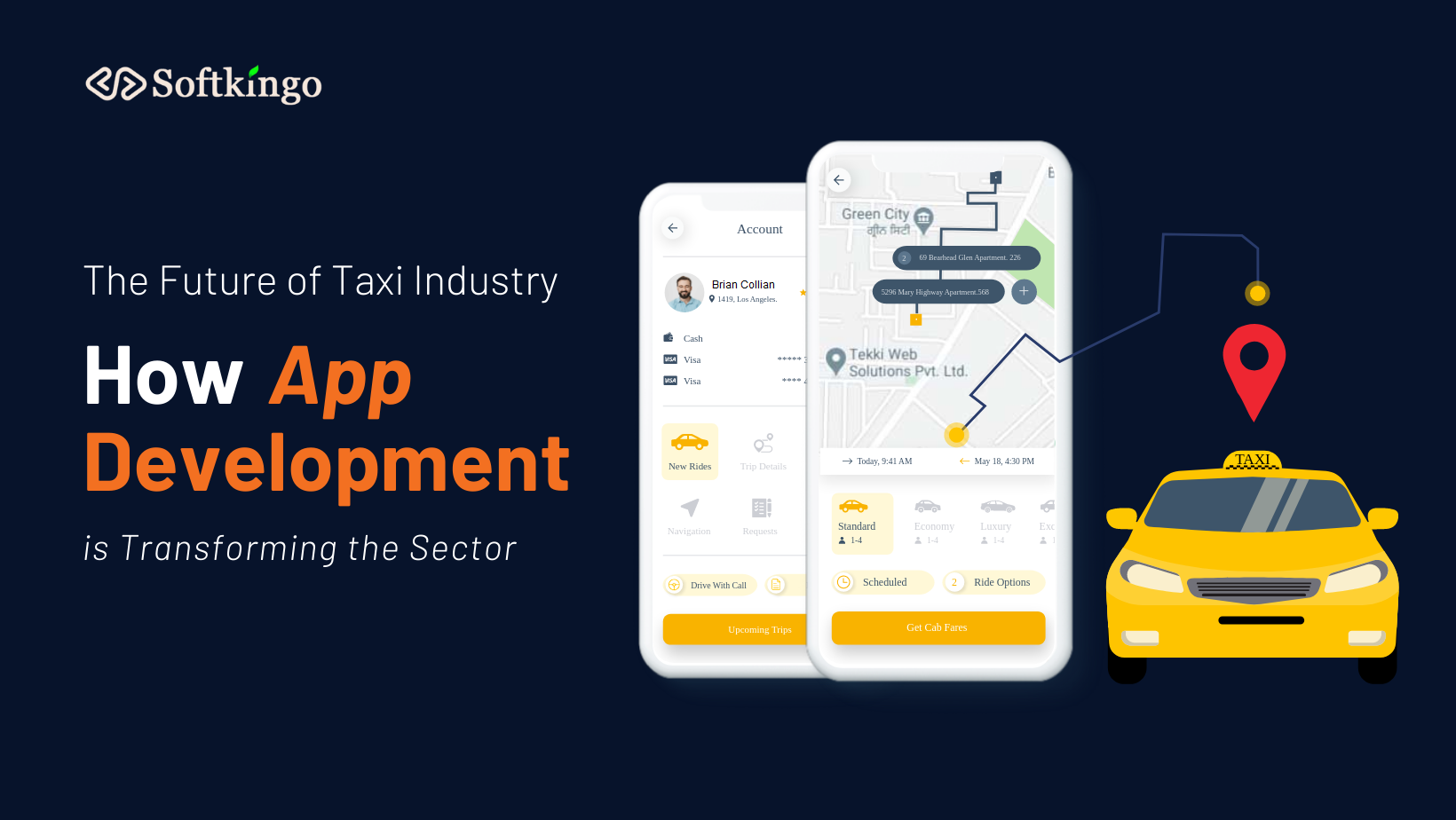 In recent years, the taxi industry has experienced a significant transformation, thanks…
[easy-share counters=1 counter_pos="inside" native="no" hide_total="yes" fullwidth="yes" fullwidth_fix="100"]