Taxi Booking App Development Company
Create your own taxi booking app like Uber, Ola and earn huge profits from your taxi business. Become a reputable taxi industry leader in your industry with custom taxi app development solutions or turnkey Uber clone app primarily created by leading taxi app development company in India and US.
Taxi Booking App Solution Development Company
Of course, the taxi industry is just as important in today's technological age, as companies adopt strategies to achieve success. Taxi booking company is a friendly and convenient niche item for intent and energetic people.
Softkingo is a taxi booking app development company in India and USA. We have created a simplified framework to serve the various partners of the taxi industry. The solution is compatible with iOS, Android, and the web. Our team dealt with issues quickly and efficiently.
SoftKingo commercial taxi booking app developers help you find the opportunity to launch a great on-demand taxi service through your customized app. So whether you are looking to convert an existing business into an online app or start a new business with a car booking app, we can help you. Our development team handles all aspects of app creation. Therefore, we recommend and design best-in-class software for you.
Online taxi booking application development services
There is a range of different taxi booking services to suit different needs and cater to different fields. As a global leader in taxi booking application development, we have accumulated experience and expertise in providing all types of taxi application development services.
Features of Taxi Booking Mobile App
In today's growing internet world, people can access many services offered at home, ranging from online food delivery to booking taxis through smartphone apps. People choose services that require less engagement and allow them to do everything on their mobile devices. The mobile application for taxi booking is an example of a service that saves you time and money by providing easy-to-use apps for your mobile devices.
GPS tracking, maps & routes, expected arrival time, real time status, anyone booking, fare estimator, current status, etc. These are some of the important things that a taxi booking app includes for your customers. Ride requests, ride acceptances, ride cancellations, alerts and notifications, gas station location, route selection, and cancellation explanations are some of the features available in the Driver Apps.
| | |
| --- | --- |
| Registration Page | |
| Multi Payment Options | |
| Schedule Ride | |
| Ride Conformation | |
| Referal Code Generation | |
| Ratings & Reviews | |
| Panic Alerts | |
| Push Notifications | |
| Ride Details | |
| | |
| --- | --- |
| | Ride History |
| | User Profile Management |
| | Menu |
| | Social Logins |
| | Taxi Availability |
| | Emergency Contacts |
| | Coupon Code/ Discount |
| | Chat |
| | Add Location |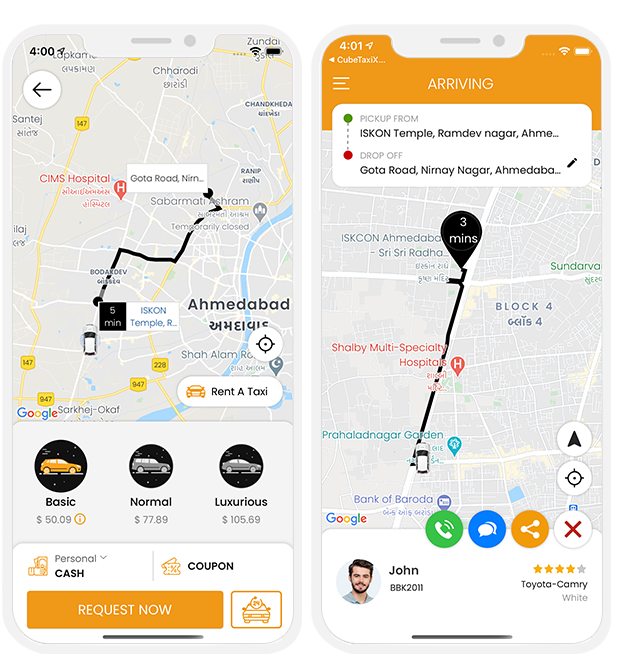 Taxi Booking App Admin Panel
Create a personalized booking app for your customers. Your passenger app will be customized to match your corporate identity and available for free download from the Apple and Google app stores. Booking a taxi has never been so easy. It has the following characteristics:
| | |
| --- | --- |
| | Authentication |
| | One Click Dashboard |
| | Push Notification |
| | Driver Management |
| | Category Management |
| | User Management |
| | Zone Management |
| | Tariff Management |
| | |
| --- | --- |
| | Ride Management |
| | Vehicle Management |
| | Location Based Tracking |
| | Profile Management |
| | Offers & Discount Management |
| | Pay & Commission Management |
| | Email & SMS Campaign |
| | Insights & Report |
Taxi driver booking app
In any on-demand service, it is important to stay in touch with your drivers. Your driver application ensures drivers have the smoothest possible onboard experience. It has many features:
| | |
| --- | --- |
| | Driver Profile |
| | Dashboard |
| | Push Notification |
| | GPS Integration |
| | Request Accept |
| | Request Reject |
| | Vehicle Tracking System(GPS) |
| | Email & SMS Alerts |
| | |
| --- | --- |
| | Automatic Face Calculation |
| | Trip History |
| | Multi Language Support |
| | Contact Passengers |
| | Review Management |
| | Transaction History |
| | Financial Information |
| | Insight and Report |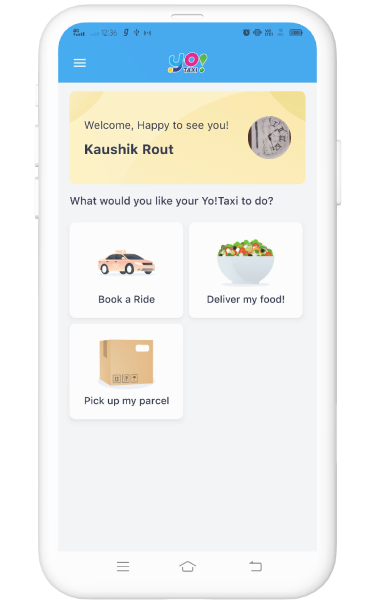 Result Driven Taxi Booking App Development Process
Any Taxi Booking app project is as successful as the overall Taxi app development process followed for building your Taxi Booking app. Each Taxi app is unique and needs a custom approach to truly justify your Cab Booking app requirements. However, here is a standard result-oriented app development process we at Softkingo, follow
Analysis of Requirements
Requirement Gathering
Timeline Planning
Brainstorming
Wireframing & Designing
Blueprint structure
Wireframing each screen
Designing the app
UI/UX Design
Wireframe Designing
Prototyping
Brand styling
Development
Coding the app
Layout main sections
Client's feedback
Testing
Application testing
100% bug-free
Get final approval from client
Deployment
Deploy(App Launch) to App Stores
Deploy to client's server
App available for users
Benefits of Using a Taxi Booking App for Your Business
Finding a taxi has become an easy process with the advent of taxi booking apps. With the development of mobile phones, the transportation industry should expect a significant improvement in the use of mobile applications. Here are some of the benefits that you can get by using custom taxi booking app development and growing taxi booking business in the global market:
Brand Building
The official taxi booking app gives your customers a sense of security while building your brand. Your own app allows customers to get to know you and expand your customer base through referrals.
Easily Manage Your Taxi Business
The management interface facilitates the management of drivers and passengers. The Administration section allows you to communicate with dispatchers, drivers and passengers. It also has a graphical representation of many details and some additional features.
Riders' Data Gathering
You can track your passenger stats, reviews and other information and customize your offers to attract them as repeat customers. You can also use it to measure the success rate of your marketing campaign and make changes accordingly.
Real-Time Location Tracking
Taxi booking apps provide real-time transparency to taxi service providers in the market through simple booking structure and real-time monitoring.
Increase Driver Efficiency
This feature allows you to monitor and track the efficiency of your drivers. Tagline is a great central system for you with Taxi Dispatch software, which allows you to manage, measure and integrate your drivers' efficiency, while allowing your passengers to provide feedback.
High Return on Investment
Create your always reliable taxi booking app and be sure to increase your business revenue. You can offer your customers multiple payment options, allowing them to choose your service and increase their revenue.
Frequently Asked Questions
I only have 10 registered drivers at the moment, is it worth investing in a taxi app like Uber for my business?
Even if you have a limited number of registered drivers, we as a taxi app development solution provider suggest you invest in developing a taxi app like Uber for your business. This will help you provide better service to your customers and drivers. This will allow you to automate everything instead of creating manual reports every day.
Who will have rights and ownership of the codes in my taxi booking app?
The entire copyright and ownership of your taxi booking app code will be yours and we will have no part in it.
How do you plan to allocate resources when developing a taxi app like Uber?
Depending on the recruitment model you choose and the scope of the project, we will select our best taxi app developers and entrust them with developing taxi apps like Uber for you.
Once I develop a taxi app for my business, will it be implemented as well?
Yes sure! Implementing your own ridesharing app, such as an Uber or Taxi Dispatch Solution, is part of our development process. We will upload it to the App Store where users can easily download it.
Can you add different payment gateways to my taxi booking app?
Yes, our taxi app developers are familiar with integrating multiple payment gateways like e-wallet, online banking, debit/credit card and more in the app. Tell us what you want in your app and we'll add it.
Will my Ridesharing app be stable and secure?
We maintain the security of your transfer application by adhering to encryption standards and taking steps to prevent data breaches in any way. We encrypt the source code, arrange to protect the data on the server and make sure the code is clean and error-free so that your application is stable and secure.