Amazon Clone App Development Company
Amazon Clone App Development
Are you ready to revolutionize the online shopping experience? Our Amazon Clone App Development solution offers a comprehensive, feature-rich platform that replicates the success of the world's leading e-commerce giant, Amazon. With our cutting-edge technology and expertise, we empower businesses to thrive in the digital marketplace.
Explore the customer app features, service provider app features, and admin panel features below.
Amazon Clone App Development: Transforming E-commerce Solutions
We offer comprehensive solutions to help you build a robust and scalable e-commerce platform. Our expert team excels in crafting high-quality mobile apps that replicate the functionality and success of Amazon. From customer app features to service provider app features, and an efficient admin panel, we cover it all.
Read on to learn why choosing our Amazon clone app development service will elevate your business and revolutionize the way you engage with customers.
User Registration
Seamless sign-up process enabling customers to create personalized accounts for easy access and enhanced shopping experience.
Product Search
Intuitive search functionality allowing customers to quickly find desired products based on various filters, categories, and keywords.
Product Listings
Comprehensive product details, including images, descriptions, prices, and ratings, facilitating informed purchasing decisions.
Shopping Cart
Convenient cart management system enabling users to add, remove, and modify products before proceeding to checkout.
Secure Payments
Integration with trusted payment gateways, ensuring secure and hassle-free transactions for customers.
Order Tracking
Real-time order tracking functionality, enabling customers to monitor the status of their purchases until delivery.
Personalized Recommendations
By leveraging smart algorithms, the app offers personalized product recommendations based on users' browsing history and preferences.
Ratings and Reviews
Customers can leave feedback, ratings, and reviews, helping other users make informed choices.
Service Provider Registration
Easy onboarding process for service providers to join the platform and offer their products or services.
Inventory Management
Efficient management of products or services, allowing providers to update availability, prices, and descriptions.
Order Management
Seamless handling of incoming orders, order confirmation, and updates for improved customer service.
Service Scheduling
Flexible scheduling options enabling providers to manage appointments, availability, and bookings.
Payment Management
Secure payment handling, providing transparent commission structures and timely payouts to service providers.
Real-Time Notifications
Instant notifications keep service providers informed about new orders, customer inquiries, and updates.
Navigation and GPS Integration
Integrated maps and GPS functionality enable efficient navigation to customer locations for timely service delivery.
Ratings and Feedback
Providers can view and respond to customer ratings, reviews, and feedback, improving overall service quality.
User Management
Efficient management of user accounts, including customer and service provider profiles.
Content Management
Easy content editing and customization of app pages, categories, products, and services.
Analytics and Reports
Comprehensive data insights, tracking app usage, user engagement, sales, and performance metrics.
Order and Transaction Management
Streamlined monitoring of orders, payment processing, refunds, and dispute resolution.
Push Notifications
Sending targeted notifications to users, promoting offers, updates, and important announcements.
Marketing and Promotions
Tools to create and manage promotional campaigns, discounts, coupons, and referral programs.
Revenue Management
Track revenue streams, commission rates, and manage payment settlements to ensure profitability.
Inventory Management
Efficiently manage products, stock levels, pricing, and discounts, ensuring seamless operations and inventory control.
Why Choose Our Amazon Clone App Development?
Customization
Tailoring the app to your unique requirements, branding, and business model.
Expertise
A team of skilled developers with extensive experience in e-commerce app development.
Scalability
Building scalable solutions that can accommodate your business growth and increasing user demand.
UI/UX Excellence
Crafting user-friendly and visually appealing interfaces for enhanced user engagement.
Timely Delivery
Adhering to project timelines and ensuring prompt delivery of the final product.
Technical Support
Providing dedicated support and post-launch maintenance for a seamless experience.
Revenue Model of Amazon Clone App

Commission-based Model
Earning a percentage of the transaction value from service providers for each successful order.

Delivery Charges
Implement delivery fees based on order value, distance, or other parameters.

Advertising and Promotions
Offering advertising space to businesses to showcase their products or services within the app.

Subscription Model
 Implementing subscription plans for premium features, exclusive offers, or enhanced user experiences.

In-App Purchases
Enabling users to unlock additional features or access premium content through in-app purchases.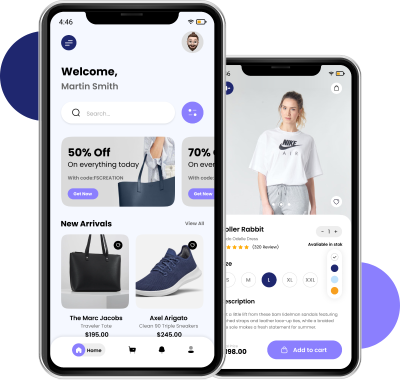 Our Process of Amazon Clone App Development

Requirement Gathering
Understanding your specific needs, goals, and customization requirements.

Design and Prototyping
Creating wireframes and UI/UX designs for intuitive app interfaces.

Development
Agile development process to build a robust and scalable app, incorporating features and functionalities.

Testing and Quality Assurance
Thorough testing of the app to ensure bug-free performance and optimal user experience.

Deployment and Launch
Assisting with app deployment on preferred platforms and guiding you through the launch process.

Maintenance and Support
Providing ongoing maintenance, updates, and technical support to ensure the app's smooth operation.
Frequently Asked Questions (FAQ):
How long does it take to develop an Amazon clone app?
The development timeline varies based on the complexity of the app and specific requirements. We strive to deliver within a reasonable timeframe while ensuring top-notch quality.
Can I customize the app's design and features?
Absolutely! We offer customization options to align the app with your brand identity and incorporate any additional features or functionalities you require.
What technologies do you use for app development?
We utilize a range of technologies, including but not limited to React Native, Flutter, Node.js, and databases like MySQL or MongoDB, depending on the project requirements.
Do you provide post-development support?
Yes, we can incorporate multi-language and multi-currency support based on your target market and audience.
Can you integrate third-party services or APIs?
Certainly! We have experience integrating various third-party services and APIs for payment gateways, logistics, analytics, and more.