Laundry App Development Company
Bring your laundry business online, serve your customers better, and generate profits with on-demand laundry delivery app development solutions. Softkingo offers on-demand laundry and dry cleaning application development services for laundry businesses. Automated order management, shipment delivery, and real-time delivery tracking Grow your laundry business with on-demand laundry app development services.
On-demand Laundry App Development
Who would have thought that one day we will depend on mobile apps for routine purchases and essential services in our lives? Smartphone penetration in the market and the significant impact of digital technology and through this optimal use to meet your needs. On-demand laundry business is one such service that is currently booming and is the perfect solution to the time crunch of urban families.
Due to the high-pressure jobs and the ever-faster pace of life, people are willing to pay more for laundry service through apps as it saves time, provides a lot of convenience,s and is available on demand. Take advantage of your online laundry business by developing an on-demand laundry app.
Laundry Development Company
We are a laundry and dry cleaning app development company and are known for designing and developing a powerful laundry and dry cleaning app. Uber's custom app development service for clothing delivery will make life easier for your customers.
Our on-demand dry cleaning app development services will help you provide convenient and hassle-free home cleaning and laundry services and help you attract more clients to your business. Softkingo Technologies provides on-demand laundry application development solutions to laundry shop owners or aggregators. We customize laundry application solutions based on your business needs.
Key features of our laundry app development solution
As a laundry service app development company, we have developed a laundry app solution that can easily accelerate your business growth.

User Registration
The ability to register in the application or log in via Facebook makes it easier to log into the application.

Discover services
Choose from a range of services such as laundry, dry cleaning, steam ironing, etc.

Manage the receiving and delivery address
The pick-up address will be determined automatically using GEO IP or the pick-up and drop-off addresses can be entered manually.

Multiple payment options
Customers can pay however they want, with the latest options available.

Book to serve
Once the washing details are entered, the user can book the service according to the available schedule.

Schedule pickup and delivery
Allow your customers to book based on their available time for laundry pickup and delivery.

Service tracking
Customers track the status of the service they have booked in real-time.

Offers and discounts
Offers and discounts to promote your service

opening hours
Customers can check the opening and closing hours of the store to book the corresponding services.

Account settings
Manage profiles, addresses, payment details, and notification settings for a better user experience.

Rating and comments
Allow customers to provide feedback to improve your sales, service, and overall experience.

Schedule pickup and delivery
Allow your customers to book based on their available time for laundry pickup and delivery.
LAUNDRY SERVICE PROVIDERS PANEL

Sign In
Laundry sellers can log in to access and provide services through this platform.

Request alert
Once an order is placed, a sales representative near the customer's location receives real-time information to take action.

Payment tracking
View all details of successful and pending payments for better account management and reconciliations.

Order management
Allow sellers to view and manage all services: incoming, in progress, scheduled or dispatched.

reply to the client
The seller can respond directly to customers, building loyalty and thus improving the customer service experience.

Customer details
Provide your laundry suppliers with all relevant customer information so that they can get to know their customers better.

List Management
Partner sellers can easily modify and add services or make price changes.

Business information management
Get all the data on your screen to better manage and make informed decisions.
Admin Panel
Admin can create multiple logins to conveniently manage role-based tasks.

Notification management
Connect with your customers and partners via SMS, email, and app notifications.

Salary and commission
Control commission rates and manage payment schedules with vendors.

reports
Stay ahead of the curve by making informed, data-driven decisions with comprehensive reporting.

orders on the site
Don't limit commands to just apps; Enable customers to book services from a responsive website.

Customer chat
Improve interaction and communication with customers via in-app message chat to get direct feedback.

A friend recommended
Promote word of mouth so more people know about your service through the app.

Logistics integration
Use third-party logistics expertise for home delivery and increase customer loyalty.

Manage laundry supplier details
Add/Edit Registered Laundry Service Providers with full details like Name, Address, Contact Number, and Registration ID for records.

Categories and services management
Add/edit multiple categories and services to submit.

Order management
Get complete details of services booked by your customers along with pickup/delivery time and service address in due time.

Customer management
This section stores the full details of your customers like name, shipping address, contact number, etc.

Payment management
Receive and deposit payments made for orders processed by partner laundry vendors
Why should you choose Softkingo for your on-demand laundry app development solutions?
To date, we have served many industry leaders in various business sectors. In the application development process, every detail is important. In order to provide exceptional quality to our clients, we employ a versatile workforce of professionals and business experts. We are a leading laundry app development company with the latest technology and years of experience in developing business applications.
All you have to do is press the "Contact Us" button to get the on-demand laundry app development service from a reliable platform. Our technical support at all times is important for the following reasons:
quality assurance
The client looks for quality when choosing an IT company, although not all companies can deliver the project. Our goal is to deliver a top-notch app that meets your professional standards and exudes elegance because in the end, quality matters!
The participation model is multifaceted
Having an engagement model that customers value is an important part of every project and application. Our staff experts are trained to design flexible and effective engagement models for various applications. The main goal of the participatory model is to engage customers in a trusted process to build trust.
Experienced Pioneers
It can be difficult to develop a flexible application with a lot of source code. However, as developers and designers with years of experience, we have been able to overcome these challenges and create great apps.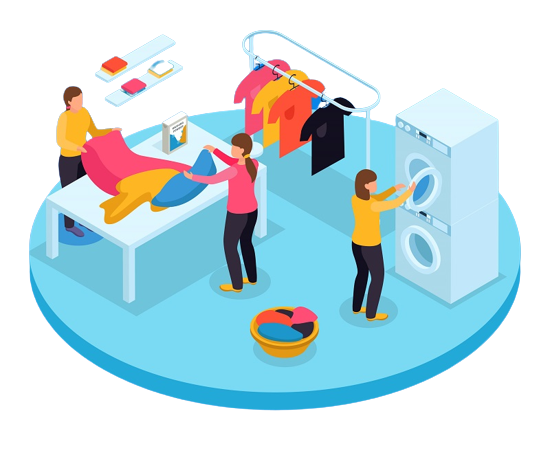 Delivery on time
As a team, we have a solid reputation for completing projects on time. If you can't get your app up and running on time, you risk losing your potential customer's trust, no matter how good the app is. The team works to deadlines and is responsible for delivering excellence when it counts, hiring and developing hourly staff.
Experienced Pioneers
It can be difficult to develop a flexible application with a lot of source code. However, as developers and designers with years of experience, we have been able to overcome these challenges and create great apps.
Hire a dedicated laundry app development company, developers, and staff to put your laundry business on the road to success at your fingertips.
Our laundry app development process
01
Determine Business Needs
Understand your business challenges
Determine your needs
Suggest a solution
02
Application Development Strategies
Create business strategies
Framing strategies according to needs.
Get your feedback
03
Wireframe and Design
Blueprint structure
Wireframing each screen
Designing the app
04
Development
Application coding
Main design department
Get your feedback
05
Testing Laundry App
Application testing
100% error-free
Obtaining final approval from you
06
Deploy Laundry App Solution
Publish to your server
Post to the App Store
Available to application users
Frequently Asked Questions - On Demand Laundry App Soution
Why should I choose Softkingo to develop my custom on-demand laundry app?
Softkingo is a leading mobile application development company. We have developed more than 400 mobile applications and more than 10 on-demand applications, including laundry applications. With our experience working on different projects, we develop unique on-demand application solutions to take startups to the next level.
Do you offer free consultations and what does it include?
We offer a free 30-minute consultation. During this period, you can share your mobile app idea with your business needs. We will help you solve your doubts and also validate your application idea. We'd like to check the viability of your idea to see how we can plan things out for the app development phase.
Will I get the source code for my laundry app solution once it's developed?
Yes, you get full ownership of the source code for your laundry system. Once your project is complete and ready, we won't have any rights to the code.
How will you keep my business information secure?
We follow strict guidelines to protect our customers' application ideas and business information. In fact, we have signed a Non-Disclosure Agreement (NDA) which states that your business information, strategies, and critical business data will be safe with us. We also use various operational values and networks, such as:
Prevent unauthorized access to the secure development area
VPN for data encryption
A firewall is installed on the server to ensure authenticated access
The source code is securely backed up
The physical control system is in place
Can you help me integrate unique features into my laundry app?
When we develop a mobile application from scratch, we focus on integrating only the features that our customers need. In fact, we consult with our customers about their needs and ask for their suggestions for integrating features. Of course, you can share a list of all the unique features you want your on-demand car wash app to have. Depending on your needs, our laundry-on-demand developers will incorporate features that clearly articulate your product vision.
What payment gateway will you integrate into my laundry app solution?
To date, we have integrated many payment gateways into our laundry software development projects. We can integrate all popular payment gateways such as PayPal, Stripe, Braintree and PayU. You can also share your payment integration requirements before starting the app development process to dispel all doubts.
Do you provide post-development support?
Yes, we provide post-development support for each project. If you encounter any technical errors or malfunctions after implementation, we will provide you with free support service for 3 months. In such case, you can contact us and our support team will guide you.