Advantages of mobile ERP and CRM integration
Mobile device integration is one of the main trends for ERP and CRM users. And for good reason: Mobile integration capabilities include increased productivity, superior service quality, and competitive advantages. Read on for an overview of mobile ERP development and what it can do for your business.
Changes made in the mobile app are automatically updated and synced with Acumatica.
We have extensive experience adapting current Internet technologies and practices to the new wave of non-scalable Amazon solutions.
You can connect to Acumatica in real time, and always have access to up-to-date information.
Discover a variety of functionality for mobile apps using the Acumatica mobile app framework and the tools and languages ​​you already use.
Changes made in the mobile app are automatically updated and synced with Acumatica.
Take advantage of the unique capabilities of your mobile device, such as the camera or fingerprint reader.
Hire Enterprise Resource Planning (ERP) Developers
SoftKingo's highly experienced developers will either build a new ERP system from scratch or customize your existing system using custom integrations.
Customized ERP Solutions
We develop scalable ERP systems for the entire enterprise to automate critical processes and deliver master data insights across on-premises, mobile and web platforms.
ERP migration solution
Upgrade systems to ensure data integrity by migrating existing data, integrating raw data warehouses, modernizing data infrastructure, and seamlessly integrating systems.
Implementation of ERP
Deploy and configure customized network, server, security, and data management solutions across your organization while maintaining data integrity.
Develop ERP plugins and add-ons
We design, develop, and implement custom plugins and plugins that add functionality, modules, and additional functionality to your custom ERP solution.
ERP Consulting Services
We analyze your current business environment to identify individual system incompatibilities and design strategies to integrate and migrate critical ERP software.
ERP application development
We create feature-rich web and mobile applications using the best technologies including Java, .NET, Python and more to keep businesses connected.
Softkingo ERP Services
Softkingo develops customized ERP solutions that allow administrators to control the entire business, from inventory and supply chain to distribution and sales.
Custom ERP development
We improve turnkey ERP solutions by automating workflows, integrating data, modifying solutions, building modules, and creating the perfect ERP solution.

ERP integration services
Take advantage of turnkey solutions and connect them to ERP or other business systems to ensure uninterrupted business operations and improve customer service.
Data storage
Take advantage of the ETL data warehouse system, transform and load it from different sources, and configure multiple nodes to aggregate data.

Strong reports
Scheduling custom reporting features for real-time queries for data-intensive reports with business object data visualization through multiple schemas and chart styles.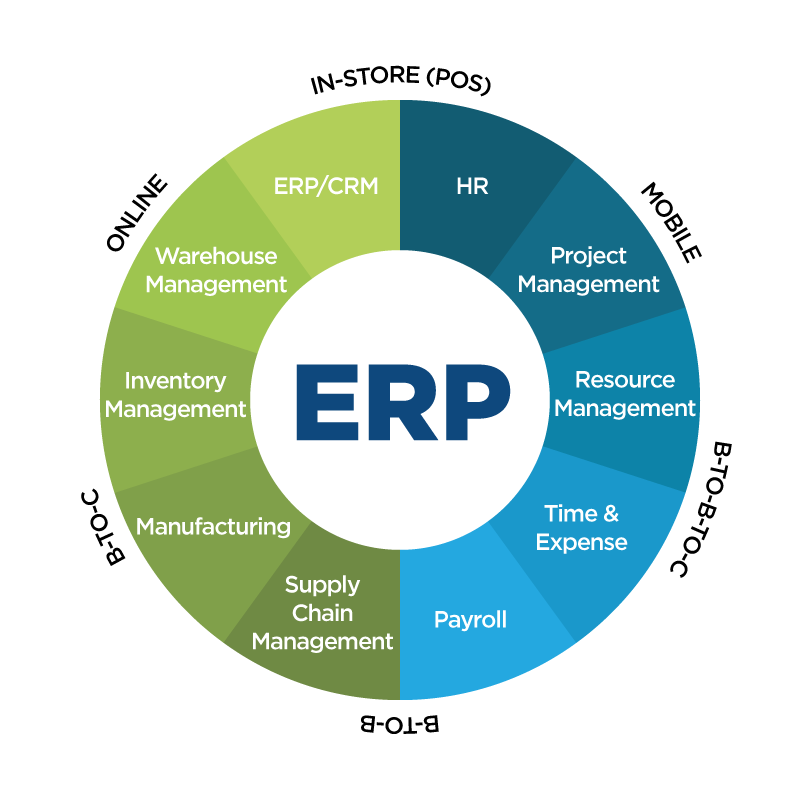 Smooth data migration
Seamlessly migrate data from an existing ERP environment to a new ERP platform, using a combination of next-generation technologies and specialized data migration strategies.
Deployment of ERP experts
Deploy and configure dedicated network, servers, security and data management systems that cover your entire organization with data integrity and zero downtime.

ERP System Configurations
We configure ERP software with specific roles, business intelligence, domains, tweaks, interface optimization, adding specific domains, and much more.
We work with major ERP platforms
Softkingo has extensive experience in implementing powerful ERP systems using popular tools such as SAP, Epicor, Microsoft Dynamics, Oracle, NetSuite, etc.
As Microsoft Dynamics Gold Partners, our developers provide exceptional Dynamics ERP development, customization, integration, migration, and more.
Chateau is an Oracle Partner that specializes in Oracle ERP, optimization, integration, and migration to connect your financial operations on a global scale.
We will integrate Epic with your existing operations so you can manage your accounting, finance, supply chain, inventory, distribution, manufacturing and production.
As a partner of the Oracle NetSuite Alliance, our goal is to accelerate your business performance with exclusive NetSuite ERP development services.
As certified SAP partners, our developers have extensive experience implementing, customizing and integrating the most suitable ERP solutions for business purposes.
Sage X3 integration is the ultimate enterprise resource planning software solution used to meet the most complex business needs, improve key processes, increase productivity.
CONTACT US
Are you looking for professional ERP development services? We can help you, email or call us; We are happy to hear from you and will be happy to answer all your questions.