Hire PHP Developer
Are you looking to hire a PHP developer for your project? Our team of over 40 PHP developers have developed over 300 successful development projects. Hire PHP programmers for custom web application, PHP website, CMS, web portal and complete web development.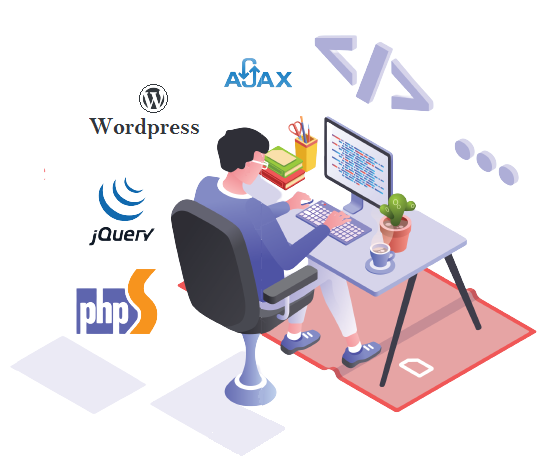 Whether you are a startup or a large corporation, we are a PHP development company providing comprehensive PHP web development services. Whether you are looking for a PHP developer who specializes in developing applications or e-commerce solutions, you will find the right web developer here.
Hire PHP developers who specialize in various sectors. We are the PHP programmers behind CareClinic, an on-demand medical app that connects patients and doctors in real time. We provide web development services and create a custom CMS for Sawyer, an advanced e-commerce CMS solution with logistics and warehouse management functionality.
Hire PHP developers to fit your schedule. Our web developers are available to work part time, part time and full time depending on your recruitment plan.
PHP Web Development Services
Are you looking to hire PHP programmers with a history of successful software applications? Look for experienced PHP developers in the required field.

Hire PHP Programmer from Softkingo?
Professional PHP Developers
Our team consists of a team of more than 40 experienced PHP developers. We have developed many PHP websites and web applications that serve multiple industries.
development experience
Our PHP programmers have over 10 years of experience in PHP web development. We have gained experience working on more than 300 projects.
Experience in the field
Whether it is finance, e-commerce, healthcare or entertainment, we pride ourselves on developing solutions that provide the best user experience in every field.
100% success in Upwork
We've achieved 99% Job Success Score (JSS) on Upwork. Thanks to our customers, we've also earned the "Top Rated" badge on Upwork.
undisclosed agreement
We take security and privacy very seriously. That's why we sign a confidentiality agreement with our clients to make sure that their idea is safe with us.
flexible contract template
We understand that every business is different and has different needs. That's why we offer flexible recruitment models that adapt to the way our clients work.
Why Choose Softkingo Technologies?
We help you to make the visitors do what you want them to on your site, our team is ready to help optimize your site.
Frequently Asked Questions
How to start the process of hiring PHP developers?
To hire PHP developers with us, all you have to do is contact us by filling out a short contact form. One of our representatives will contact you and ask you questions about your needs. Ask questions about process, budget, costs, schedule, project management, and communication. After understanding your needs, we will send you a list of PHP developers that you can choose from. If you want, you can interview them as well. After selecting the developers, we will inform you of the terms of the contract and also sign a non-disclosure agreement to keep your idea completely confidential. Then it's time to start the process.
I want to keep my idea of ​​PHP web development. Do you sign a confidentiality agreement?
Yes, as a leading PHP development agency, we sign a non-disclosure agreement with all clients before starting PHP web development. We make sure that your shared idea is safe with us. We also take care of the data and information shared about your project and take all measures to maintain confidentiality by following best practices. We do not disclose any information to third parties without your permission.
In fact, PHP developers sign a document stating that developers do not have rights to the code they write for their solution.
How can I communicate and educate specific PHP developers?
We believe in peace of mind for our customers at all times. As the web development progresses, you can get feedback and guidance. Instead of repeatedly giving instructions to all team members, we will provide you with a project manager. The PM will assist you in the development process and can explain your needs to you. Additionally, you can also contact the assigned developers directly via email, Skype, Basecamp, and phone calls.
What if you are in a different time zone? How will you contact me?
We want to make sure we give you comfort and convenience so that we can change your PHP developer hours to match your local business hours. We will do our best to overlap your regular hours of at least 2-3 hours with your time, if not completely, so that there is effective communication and transparency between you and the dedicated PHP developers. We work according to the client's local business hours to achieve project goals, deadlines and milestones.
How many projects have your developers created using the PHP programming language?
Our developers have developed more than 300 successful web solutions using the PHP programming language. Our projects include Sayar, an e-commerce portal with a fully customized content management system for logistics, inventory, warehousing and supply chain management. Another program called "Ambition" is a platform for networking, developing leaders from different regions and inspiring the community. Our developers have also developed healthcare web solutions such as Medcall (an on-demand medical app for connecting patients and healthcare professionals in real time) and One Path Medical.
What if I need to make changes to the project after the development process is complete?
Depending on the type of changes you want, our expert team will answer your questions and help you accordingly. In addition, if the development process is still in progress or the solution is not uploaded to the web server, you can directly contact your project manager or developers if you need any changes.
We had to create an iOS app to calculate gas turbine performance and availability based on user choice. Softkingo has developed an app for iOS with the necessary calculation functions. It offers a simple, fast, versatile, and practical application. It was very comfortable and efficient and required minimal oversight from our side. They were flexible enough to accommodate internal preferences. Internal stakeholders are pleased with the application and the unexpected flow of the application. Independent and adaptable, Softkingo respects seamless collaboration and established practices.
Jordan Corette
FOUNDER AT TIP, UK
We hired SoftKingo to create estimates, proposals, purchase orders, and project management to web solutions for specialty roofing & metal wall company. During this project, we worked with the same project manager and the response time for any fixes was impressive. The whole team is attentive and responsive. Now our sales teams provide more accurate quotations and estimates(proposals). Now it is very easy to put together a new sales team because we have a standard working method. In short, I can say Softkingo has fulfilled our expectations.
Yousef Almutairi
FOUNDER AT DELEELA MOBILE APP, UAE
We came to SoftKingo last year to create a platform that connects over 50 people with meaningful job opportunities, allowing us to list events and build a useful database.
Priyanka Gothi
FOUNDER AT WISEATWORK, INDIA