Ubercloneapp Development
Get Our Incredible Uber Clone Taxi Ride Service
Uber is quite popular among the masses as it enables easy availability of transportation, reaches destinations in less time without any inconveniences, and offers highly affordable rides comparatively. In many cities, Uber is available, you can use the Uber app to request a ride, and when a closeby driver accepts your request, the Uber app shows all the needed details of the driver. Meanwhile, customers can also visualize the driver's current location and ETA.
 Most Advanced Support System
 Hassle-free Booking & Tracking Modules
 Easy and Convenient to Install
 Fast Loading and Quick Accessible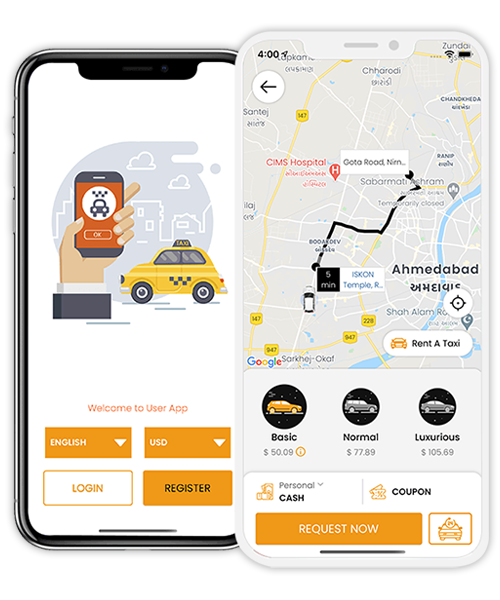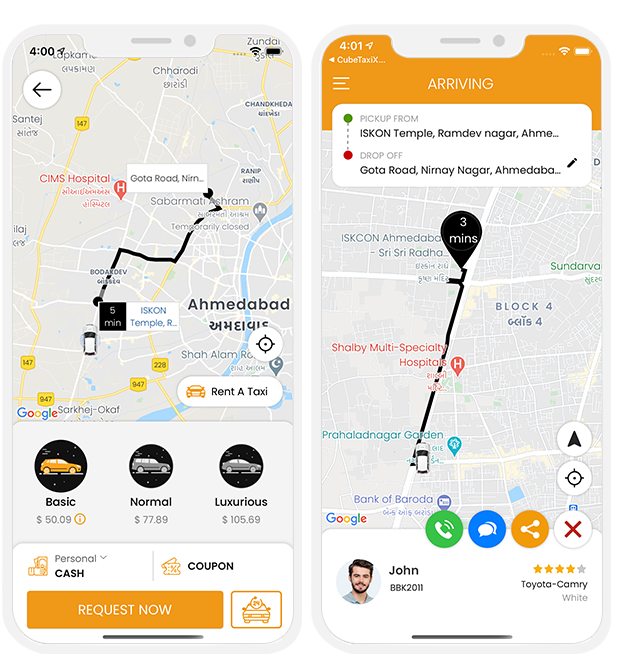 What is Uber App Platform?
Uber like app is quite popular among the masses as it enables easy availability of transportation, reaching destinations in less time without any inconveniences and offers highly affordable rides comparatively. Implementing our uber clone script, you can easily launch your own taxi business app in no time. Our team of dedicated taxi app developers assists you in building up a uber clone app script that is highly customizable and white-labeled.
How Does Our Uber Clone App Work?
It is the world of -on the go. The world is increasingly getting mobile. Then how about some uber clone app for your fleet of services so that you can manage them in a hassle-free way while growing your business manifold? So, here we bring you the best White-labeled Uber like clone script with a host of unique and innovative features.
Login/Signup
BOOK A RIDE
CONFIRM THE RIDE
PAY AMOUNT
Login/Signup
Customer can log in or signup by using their mobile number, email and social media profiles like Facebook, Twitter and etc. By mobile & email, the customer will get the OTP.
BOOK A RIDE
Now the customer can track nearby all drivers and also check available all vehicles with its profiles and rate. Customer book the ride request by selecting pick & drop location and vehicles.
CONFIRM THE RIDE
Nearby all drivers will get the ride request and have the option to accept or reject the request. Once the driver accepts the request, the customer will get the notification and check the driver profiles.
PAY AMOUNT
Once driver will reach the customer location he needs to start the ride in his app and after reaching the drop location he needs to collect the money by cash or online and make his ride as a finish.
Real Estate
The use of artificial intelligence in the real estate industry will not only improve the efficiency of operational functions, but also change the decision-making process. Potential uses for AI range from asset management to asset valuation, asset management, simple collaboration, peer-to-peer transactions, supply chain management, and facility management.
Travel & Tourism
Data science and machine learning technologies can greatly benefit the travel industry in terms of recommendation engines, flight and hotel price predictions, smart travel assistants, improved management outages, customer support, customized MVC offerings, airline UX personalization, and sentiment analysis. Hey. Social media.
Incredible Features of Our Uber Clone Script
With explicitly well designed uber like app development services, our app helps you generate huge revenue in less time in an upright way. Intricately designed with intrinsic features and developed with the latest technologies, our uber clone script provides you the upper hand in managing drive pathways, keeping up with track details of drivers as well as pickups and dropdowns of passengers, and setting promotions according to the regions.

Easy Onboarding
New users can easily get started with the app using their email and phone numbers. Quick installation and hassle-free navigation with a highly interactive user interface make the whole process of a drive easier and convenient.

Quick Bookings
With high-end intuitive app User Interface, bookings can be made in no time with just a few simple clicks. No rundown time or loading issues. It offers a real-time booking process with no wait time or booking errors.

Schedule a Ride
Feature to schedule a ride for a future date, time and location. Plan a ride for future events without missing on the majors. Following some simple steps, you can easily pre-plan and schedule your ride.

Ride Details
Once the booking is completed successfully, passengers receive all relevant data and information for the ride. From picking up time, location of dropping, time is taken for a drive to fare details, all at a touch.

Live Tracking
With accurate ETA updates along with real-time driver tracking on a map, users can easily check the status. They can clearly locate through the app where exactly their ride is and can also provide guidance for their location.

Seamless Payments
With a range of multiple payment options, it is easier to pick the one for hassle-free ride payments. Whether you are looking for cash payment or using credit/debit cards, everything is carried out without any transaction issues.
CUSTOMER APP FEATURES
We customize the customer app in our uber clone script to suit your requirements so that you can go digital with your business and reap in its benefits within a short span of time. There is always a demand for integrating the emerging trends in the customer's requirements. Hence, you ought to always have room for the latest advanced features like:
Easy Registration
Our uber like app development services has two methods for user registration. One is by the user's email and contact number. The other is by social media account.
Request a Ride
Our android/iOS developer has designed this feature wherein the current location and the destination will be provided by the customer.
Real-time Tracking
The uber like taxi app tidentifies correct geographical coordinates and provides real-time tracking of the vehicle for the customer.
Payment Gateways
We have designed our uber clone app to include its own wallet or accept payment from card or cash whatever seems appropriate for the customer.
GPS Service
There is Google map integration in our uber clone app source code which allows the user to change his location information and set the destination.
Push Notifications
Our uber like taxi app will provide for the continuous notifications regarding the payment, fare, tracking, feedback and ride status.
DRIVER APP FEATURES
Investing in technical solutions and creating an uber clone app development means a deep dent in your pocket. The driver app is the most vital part and we impart the most advanced features in the driver app. Packed with powerful features, our uber clone script can be installed on both the Android and iOS platforms.
Delivery Boy management
To provide secure delivery to the users, the admin can manage the driver boy panel. From this dashboard, the admin can view the feedback received by him and how many orders he has delivered per day.
Order management
Managing orders and keeping a track on all orders including accepted, rejected, completed and delayed is now possible for the admin.
Order management
Managing orders and keeping a track on all orders including accepted, rejected, completed and delayed is now possible for the admin.
Order management
Managing orders and keeping a track on all orders including accepted, rejected, completed and delayed is now possible for the admin.
Order management
Managing orders and keeping a track on all orders including accepted, rejected, completed and delayed is now possible for the admin.
Order management
Managing orders and keeping a track on all orders including accepted, rejected, completed and delayed is now possible for the admin.
DELIVERY BOY APP FEATURES
With an intention to keep everything uncomplicated for the delivery providers, our Zomato clone app source code includes user-friendly features that are easy to understand and also can be used by even that delivery boy having zero to less technical knowledge. Here is the features list of the delivery boy app: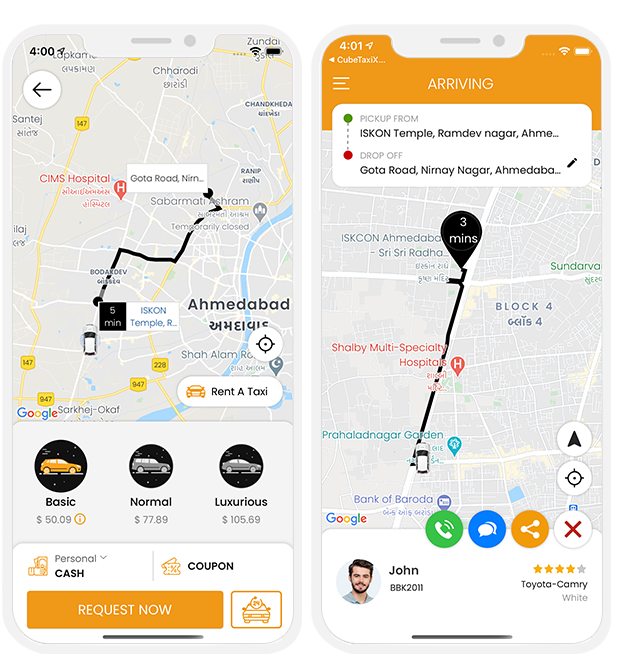 Flexible Login Hours
The driver boy enjoys complete flexible working hours and can log in and mark himself as available as per his convenience.
Create Detailed Profile
Delivery boys can create a detailed profile including name, contact number, email address, photo, driving license and other essential information.
One-tap Call to Customers
On situations when the delivery boy has to hunt for the exact location, then with a single tap he can call the customer and get directions.
Geo-Location
Every delivery boy may not be familiar with every shortcut and routes. With the geo-location feature, he can find shortcuts and deliver quickly.
Order List
To memorize the entire order list isn't practically possible. Hence, the order list feature displays the entire list of completed, upcoming and rejected orders.
Chat System
Delivery boy can have a chat with the customer as well as with the restaurant owner whenever required.
Liked Our Portfolio? Let's Work on Your Idea
Our Mobile App Development Process Steps
Architectural Design
Discussion of your idea is followed by moving on to designing wireframes for the same. This gives us a blueprint of the project. Any plan or suggestions from you are always welcome.

UI / UX design
The wireframes then lead our team of highly skilled designers to design the best and most interactive UI / UX according to your mobile application needs.

Development
The interactive user interface must be combined with flawless functionality for any industrial application to succeed. So, once the design is complete, our dedicated team of developers will be involved in developing business models for your app.
Testing
We don't want our customers to worry about mistakes. Therefore, once the development phase is complete, each unit is individually tested by our quality assurance team to ensure they are error-free.
Deployment
Congratulations! Everything is ready and it's time to hit the start button. Once our quality assurance team approves the app, we will release it to the App Store.
Analysis of Requirements
Analyzing your idea is the first step taken by our expert developers. We prioritize the achievement of your goals through the best solutions possible. App optimization is an important aspect for us. Thus, we bring you the best optimization ideas to further improve your app.
What We Deliver
Complete satisfaction in our uber clone script is what we guarantee you! Built with iOS and Android uber clone app source code for brilliant execution, we offer a white-label Uber like taxi booking app for your start-up business and ease of use for users.
Customer iOS/Android APP
Driver iOS/Android APP
Fully Functional Website
Customer Web Panel
Driver Web Panel
Partner Web Panel
Billing Panel
Dispatcher Panel
Super Admin Panel
Uber Clone Source Code
6 Months of Free Support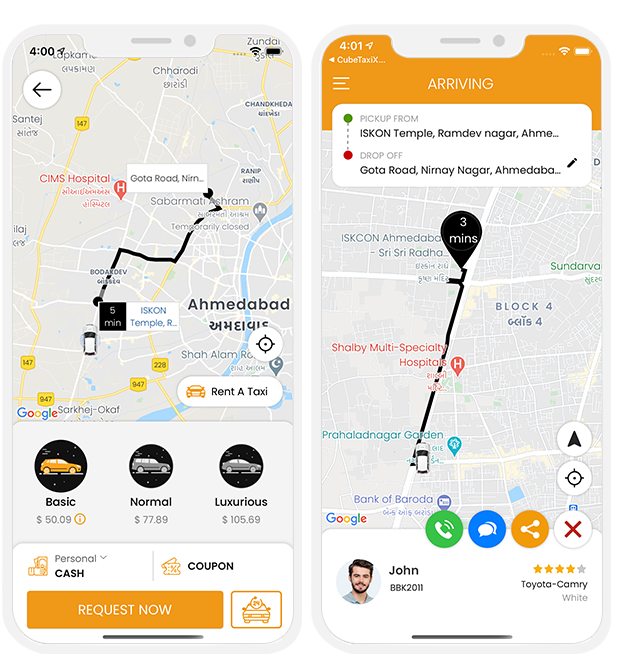 Our Technology Repository
High-end and advanced technologies leveraged by our expert on demand taxi app developers provide small as well as big entrepreneurs innovative, intuitive and next-gen business uber like app development solutions that are significant for digital transformation.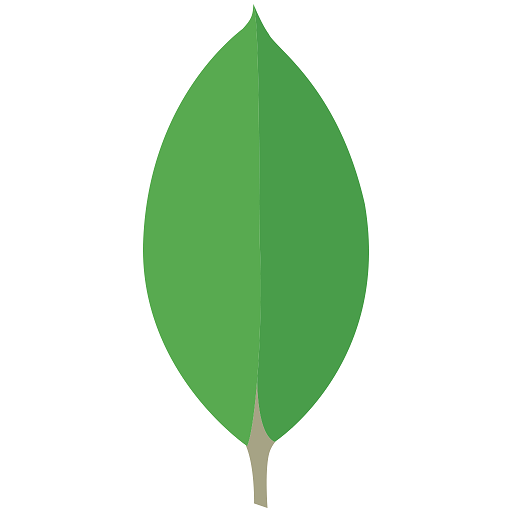 Payment Gateway Offered
We integrate multiple payment gateways into the app that is fully convenient and allow your customers to pay via credit/debit cards, via in-app wallet securely.




Available in this Country

Available in this Country
Available in this Country
Available in this Country
Advantageous Add-ons of Our Uber Clone App
Try our advantageous add-ons of Uber clone script for your taxi booking business which helps you to streamline your taxi management solution to get more customers and earn more profit. Spotlight the unique features integrated into our Uber like app source code.

Loyalty Programs
A vital feature for offering loyalty programs to your customers for attracting and motivating them so that they continue ordering food via your app.

Wallet
The customers can keep sufficient balance in the wallet present in the app and process fast payments with just a tap.

Social Media Integration
The best platform from where your app can gain tenfold popularity is the social media platform. Hence, with this feature let your customers share their experience on such platforms.

Deals and Discounts
Attractive offers and promos can be offered to the customers via this feature to delight them so that they order food from your app to avail attractive discounts.

Multiple Delivery Address
This feature makes it easy for the customer to send the same food delivery order to more than one delivery address at the same time.

Multiple Language
The app must be available in multiple languages in order to enable every user to access the app in the language with which he finds himself more comfortable.
Frequently Asked Questions
Are you in a quandary looking for answers to the trickiest questions? Let us help you!
Do You Provide Support Even After The Completion Of The Free Support Tenure?
Yes, our team of dedicated developers are always happy to assist you in case of any query or support. Our efficient support system ensures that your app works smoothly.
Does Softkingo Sign A Non-Disclosure Agreement?
Yes, abiding the international business privacy standards, we do sign a Non-Disclosure Agreement.
Can Multiple Payment Methods Be Integrated Into App?
Yes, if you want, our developers can integrate multiple online payment options enabling your customers to pay via net banking, credit and debit cards as well as via various e-wallets like Stripe and PayPal. Also, we can add a COD option if you want.
Do I Need To Have Technical Knowledge Prior To Using The App?
No, you need not have to acquire any technical knowledge for using the app as we develop our every app with user-friendly features with step-by-step guidance so that even a non-technical person can operate it with ease.
How Can I Get Update About My Project?
We will provide you with the contact details of the assigned developer whom you can contact directly whenever you want to know about the progression of your project. You can even communicate with him in between the project if you want to make any alterations in your app. The same developer will update you frequently regarding the progress of your app development project.